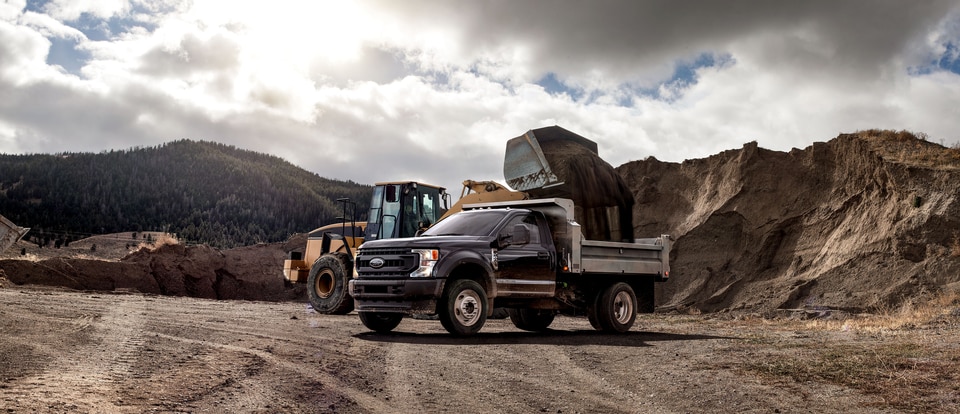 Find your New Work Truck or Van with Northside Ford Truck Sales Inc.
Having the right vehicle for your business can help you get the job done. Whether it's a pickup truck to haul cargo at the job site, a shuttle van to carry customers or employees, or a range of other commercial vehicles, our team here at Northside Ford truck Sales Inc. in Portland, OR can help. Get ready to get the capable truck or van you need to easily and confidently tackle the roads ahead with more confidence and poise.
Shop Commercial Vehicles in Portland, Oregon
Commercial Trucks
Ford Super Duty
The Ford Super Duty comes in both the F-250 and F-350 to give you an impressive amount of horsepower and torque. The Ford Super Duty has a range of standard and available driver-assist features that are designed to help you avoid potential accidents and stay in control. Whether it's coming to towing or hauling, the Ford Super Duty can be equipped with the right features to get the job done. Use one of these trucks to handle the roads and hard work ahead and do so while also enjoying top-notch technologies!
Ford Chassis Cab
The Ford Chassis Cab offers a wide range of technology features that improve road awareness. It's designed to provide you with best in class payload to haul a wide range of cargo. Its design is built on a high-strength steel frame for improved durability along with an improved chassis and suspension, all while being able to be customized and upfitted for your needs in the Vancouver, WA area. Some chassis cab models include the Ford F-450 Chassis and the Ford F-550 Chassis. 
Ford F-650/Ford F-750
The Ford F-650 and the Ford F-750 are medium-duty pickups that can feature either a stout diesel engine or gas V8 engine that is paired with a heavy-duty transmission. It can be upfitted with a wide range of bodies to handle a range of jobs with little to no modification required. 
Commercial Vans
Ford Transit Cargo Van
The Ford Transit provides you with both a lightweight and durable design that comes in three different roof heights to accommodate different types of businesses. It provides you with an impressive amount of cargo capacity and the Ford Transit comes in three different lengths as well. You can find space for a wide range of tools and equipment. Features such as the available power sliding door can make it simple to get in and out of the Ford Transit when you are in the busy streets of Milwaukie.
Ford Transit Connect
For those needing a cargo van that can easily navigate crowded city streets, take a look at the Ford Transit Connect. There's both cargo and passenger options available depending on the needs of your business. You can upgrade the Transit Connect to handle a wide range of equipment and its designed to provide you with ample amount of storage. You can even further customize the Ford Transit Connect to your business with a range of templates and graphics designed and installed on the exterior to make it stand out un the Beaverton area.
Benefits of a Commercial Vehicle
Having the right commercial vehicle, whether it's a truck or van provides you with a purpose-built vehicle that can be customized to the needs of your business. These vehicles have the added performance and space to handle a wide range of jobs.
Potential Tax Benefits
Please note: Please discuss any potential tax advantages with your tax advisor. Your company may be able to utilize available provisions in the tax code. (We are not tax advisors).
Business vehicle deductions are always changing, but typically cargo vans and shuttle vans may qualify you for a full Section 179 deduction. For other vehicles such as a pickup truck with a full-size cargo bed may also get you bonus depreciation when used for a qualified business use as well.
Other considerations is that the vehicle should be titled under the name of the business, and can either be financed with certain leases and loans.
At the end of the day, you will want to talk to your qualified tax advisor to see the best way to utilize Section 179 deductions for your business.
Which Ford commercial vehicle is right for you? We invite you to check out our inventory of new models online and contact our team to schedule a test drive and explore our leasing and financing items. We are ready to help drivers like you in the Gresham area the chance to handle every hard job.
Hours
Monday

8am-6pm

Tuesday

8am-6pm

Wednesday

8am-6pm

Thursday

8am-6pm

Friday

8am-6pm

Saturday

9am-4:30pm

Sunday

Closed
Make an Inquiry
* Indicates a required field