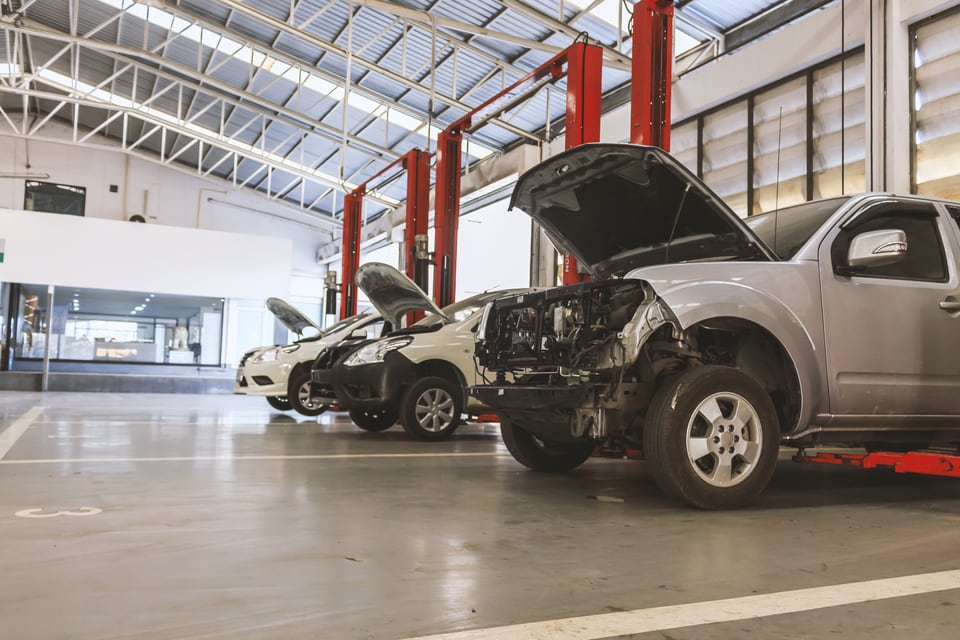 Take Care of Your Ford Truck at Our Service Center
Finding someone you trust to do all of the maintenance and repairs on your Ford truck can seem like a daunting task, but when you come to Northside Ford Truck Sales in Portland, you'll find a whole list of reasons that you can trust us. Eventually, you'll need to find someone who will be able to fix your truck even if you think that your truck is a great vehicle, and we would love to show you exactly how we can keep your Ford truck running in tip-top condition. These are some of the services that you can get when you stop into our service department.
Our Most Common Services
There are some services that all vehicles will eventually need. This is a list of five of our most commonly requested services.
Oil Changes
As one of the most common types of maintenance services, we can change your oil quickly.  Getting your oil changed at the regular intervals suggested by the manufacturer is important to keeping your engine running smoothly and avoiding much more expensive repairs in the future. Never neglect to change your oil at our dealership in Oregon.
Tire Changes and Rotations
Having tires with a good tread depth on your truck will make you safer, and rotating your tires on a regular basis will keep your tires in good condition for longer. Our mechanics are used to changing and rotating tires, and they can suggest a replacement brand if you need a new set.
Battery Replacement
Getting stranded in a parking lot because your battery went dead isn't a fun experience. Avoid that situation by having your battery tested and replaced before it's completely worn down. We'll even be happy to suggest a battery so that you can feel confident that you're getting one that's rated for the temperatures that you need and has the warranty that gives you peace of mind around Milwaukie.
Brake Changes
When you need new brakes, you should get it done sooner rather than later. Worn brake pads will cause squeaking, and if you wait too long, the caliper will start to grind into the rotors, which will eventually become dangerous. Replace your brake pads and rotors at the first squeaking sounds.
Engine Tune-Ups
Spark plugs, oil filters, fuel filters, and many other components eventually need replacement. You can take your truck to our dealership near Gresham for a thorough inspection and replacement of worn parts. We'll be happy to show you which parts need replacement and fix your truck before you find yourself stranded because a small but important piece went bad.
Why Get Your Vehicle Serviced at Northside Ford Truck Sales?
When you want to know that your truck will go strong for years, getting all of the scheduled maintenance done is one of the best options. Having your truck regularly serviced near Beaverton will ensure that your truck has the fluids needed to lubricate parts so that parts don't wear out more quickly than necessary. Getting your truck serviced regularly is also necessary to lessen the likelihood of you breaking down on the side of the road.
Quality Parts
When you're looking for a quality maintenance or repair job, you want mechanics to use quality parts. Whether you need something as simple as new brakes or something as expensive as a new serpentine belt, at our dealership near Vancouver, WA, we have the parts and services that you need to keep your truck running great for years.
Visit Northside Ford Truck Sales to Learn More
When you need a service done to your truck, you don't want to leave it to just anyone. You should always bring your vehicle to mechanics that you trust and already know. Our dealership has fully trained mechanics who are happy to help by diagnosing the problem and fixing them before becoming much bigger and more expensive to fix. We look forward to working with you soon here in Portland!
Your privacy is important to us.
Our Dealership takes your privacy seriously and does not rent or sell your personal information to third parties without your consent. Read our privacy policy.
Service Hours
Monday

7am-11:59pm

Tuesday

7am-11:59pm

Wednesday

7am-11:59pm

Thursday

7am-11:59pm

Friday

7am-11:59pm

Saturday

8am-4:30pm

Sunday

Closed